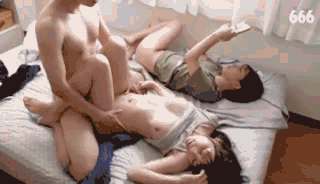 Nora Weldon couldn't have been more right about paying a price the next day. She could hardly walk or sit from the incredible sexual bout with the two plumbers yesterday. As she gently shifted her sore rear in the chair at the breakfast table, she stared at the pages of the old journal, rereading the pages she had written. "It all happened just like I wrote," she thought as the read her fictionalized account of Catherine the Great. As she read, she could hardly believe her eyes. There it was – the enormously hung servants, the undressing, fondling, lovemaking, and right down to the double fucking. The erotic fantasy that she had written had just come true!
Bewildered, she painfully made her way to work.
When she came home that night, she reread the pages she had written earlier. Just to check, she thought. Maybe she had misinterpreted her story. But, no, there it was, just as she had written it and pretty much as it happened to her.
"Can't be," she thought. "It's a freaky coincidence."
She took out her pen and began furiously writing, determined to prove the silliness of the whole thing.
"Catherine is approached by a handsome envoy. He finds her beauty irresistible and soon they are in bed." The story went on for eight pages. Eight pages filled with passionate, forbidden love, and an explicit lovemaking session where Catherine rides the man through multiple orgasms.
Recapping the pen, Nora closed the book and went to bed, sure now that this test would dispel any silly notions she had. On the other hand, if it were true, she could look forward to a romantic adventure, hopefully again with Mister Right, Jeff.
That night strange dreams once again destroyed her peace. Wild dreams filled her head, women bound and tortured, unearthly creatures humiliating her as they stripped and poked her, dark savages eating her flesh as they ravaged her.
Nora awoke with a start, covered in a cold, clammy sweat, and looked at the clock. It was four o'clock in the morning and she lay in bed, tossing and shaking, unable to go back to sleep. Finally, she gave up and started her day, with little sleep from the night before. Her morning cup of coffee in front of her, she opened the journal to review what she had written the night before. Empty pages stared back at her. The eight pages of the blissful, romantic love of Catherine the Great was not there. The only writing in the book was her earlier story about the threesome with the male servants. After that, only blank pages followed. Stunned and confused, she headed into the city and the library and to work.
That evening, Nora sat in front of the opened book, stared at the blank page in front of her and waited. What should she write? Should she write anything at all? And if she didn't write, would she have more of the horrible dreams? And so she sat and stared at the book, until finally she closed her eyes and let her mind wander, first on the horrific images of her dreams and then roaming deep into her own erotic fantasies. Soon she was writing at a furious pace.
"At a splendid court ball, Catherine arrives wearing a gown that shocked all there. Her breasts are fully exposed and the front of the gown is open revealing her sex to all of the men of the court." Nora went on for bayan arkadaş only two pages, but they were two dark pages telling of Catherine the Great exposing herself and humiliating herself at a court ball, demanding the Lords please her orally and genitally at her whim. She closed the book, noticing that the damp crotch of her panties signaled that there were some really hot and erotic ideas spilling out of her head and onto the page.
She laughed, "Let's see how the book likes that!" as she turned out the light and went to sleep. And sleep she did! Soundly and restfully, Nora slept like a rock and didn't wake up until the phone rang, well after 9 am. It was Saturday and fortunately she didn't have to go to work.
Jeff's voice came over the phone and Nora beamed with pleasure. She was desperately hoping that he would call her and ask her out.
Just checking on the plumbing, he said. And that the bill was ready and not to be shocked by the amount.
"$2,300?" Nora said, outraged. "I can't pay that. I don't have that much just lying around."
Well, he suggested over the phone, how about them getting together tonight and they would talk about it and see what they could come up with. The smile came back to her face. He was asking her out on a date and this was his way of doing it. "How cute," she thought. She instantly agreed.
She spent the rest of the day shopping for a new outfit and getting her hair done. She had looked in her closet and realized that nothing in there was suitable. So off she went, buying several new and attractive outfits, revealing more of the old her than she thought she ever would show again. The hair stylist shook her head with dismay but after three difficult hours, Nora's stunning blonde hair was back and superbly styled.
"Gorgeous," she said looking at herself in the mirror, something that she hadn't thought about herself in a very long time. The doorbell rang and she bounded over and threw open the door, only to be met with shock and dismay. There stood Jeff, with Ricky accompanying him.
"Damn," she thought, as the three of them headed out for an evening on the town.
They hit two clubs and she had a good time, drinking and dancing with both of them. They drank and laughed and chatted. But it certainly wasn't the romantic tete-a-tete that Nora had envisioned between Jeff and herself. They all had a few more drinks and were pretty well lit when the guys said they had one more club to visit before they called it an evening. Off they went arriving at a very rough part of the city and in front of a strip club, the bright marquee lights proclaiming "Amateur Night."
Reluctantly, she followed them inside, since the only other option they gave her was to walk home. She would have gotten only a half a block before she was mugged and she knew it. Inside, they had a few more drinks as the loud music and raucous male crowd got geared up for Amateur Night to start.
At the table, Jeff and Ricky announced that $2,300 was the amount due and that they had already talked to Jake about seizing her wages or possibly a lien on the house. Nora was stunned. She thought it had been a joke, a ploy to go out with her. Confused, Nora said that she would have to take out bayan partner a loan and that would take time. Time, the men both agreed, was something that she didn't have.
"There is, however, another way," said Jeff, his speech thick with booze. "There's a $1,000 prize for Amateur Night. If ya' win that, we could maybe let the other $1,300 slide. After one more time in the sack with both of us, that is." The two men sat and leered at her, waiting for her answer.
Nora was shocked. She was drunk, her head hurt and she was in the middle of a strip club being told that her house was going to be seized. She frantically began to reason with them.
"Look, I couldn't strip if I wanted to. And if I could, I sure as hell couldn't win anything, much less $1,000," she said, her own speech as slurred as Jeff's.
"Bullshit," said Ricky. "With that body of yours, you'll win easily. Look at the skank's you're going up against."
Nora looked around the room and had to admit it was a pretty unattractive group of women – hookers, trailer trash, and a handful of big-breasted coeds lined up against the walls waiting for the contest to start.
Before she could speak, Jeff pushed a small plastic shopping bag into her hand.
"We bought ya a little outfit. You'll be great," Jeff said, as he jammed the bag into her hand, pulled her out of the chair and sent her off to join the other women in the dressing room.
Nora staggered slightly to the dressing room and found an empty corner both to lean against and to change her clothes. She pulled a flimsy red dress out of the bag, red stockings, red shoes and the tiniest sheer, red g-string she could have ever imagined. She put the cheap outfit on as the other contestants began. She was the last one entered, and thus the last to dance.
"Well, shit!" she said to herself looking at her reflection in the filthy dressing room mirror. She realized her only hope was to dance well enough to win the money, pay the bill and vow never to have anything to do with men again. She opened her purse, put on some heavy, dark eye shadow and a ton of lipstick and waited her turn.
The fact that she was beginning to sober up was bad. But what made things worse, was that the whooping and hollering from the men for two of the other women was pretty wild. If she lost, she really would be screwed, in more ways than one, she thought.
Just then, an unshaved old man stuck his head in and said, "You're up, honey!"
The music blared as she walked into the middle of the stage, the lights blinding her at first. Nora closed her eyes and began to dance, slowly undulating her body. The men were loud, but not overly impressed by her, she could tell. So she began to rub one of her breasts with one hand. The response was automatic. The men stomped and yelled as she massaged her D cup breast, pushing it up and around under the thin, cheap fabric of the red dress. "Wow," she thought, that woke em up!"
Encouraged, she slid a long finger between her dark red lips, got it good and wet and began rubbing it on top of her harden nipple, which jutted wildly out under the filmy fabric. The men loved it as she then toyed with both of her erect nipples, finally giving them what they wanted to see. bdsm escort She reached over and unhooked the side snap on the dress, pulled it open and tossed it aside.
The men in the club went crazy, yelling, cheering and throwing money at her. Money? She looked to be sure. Sure enough, the stage was littered with bills, $1 and$5 bills, at her feet. She jiggled her large breast a couple of times and another wave of currency flooded toward the stage, as the cheers and shouts heightened.
She couldn't believe it. Not only did they like her, they were willing to pay to see more. A large smile broke out on Nora's face as she danced down to the front edge of the stage, turned her back to the crowd and bent over, sticking her shapely ass in their direction. She rubbed one breast as she began to really enjoy the crowd response. She touched her tits and they went crazy. She rubbed her buttocks and they screamed for more.
The power, the raw lust she felt from the crowd was hypnotic. The more they wanted, the more she gave them, touching and caressing her long slender body as they screamed and threw money. The floor was now covered in green, as she was swept away with the aura of pure animal passion that she was evoking. She slipped her hand down between her legs and began to stroke the saturated front of the flimsy g-string. God, she thought, she was so damp it felt like she had cum. Her swollen cunt lips stuck out and filled the tiny red fabric v as her pink inner lips pressed and spread against the sheer cloth.
They went screaming, crazy, a wild mob in front of her eyes. It was like a narcotic, the more adulation she got, the more she wanted. She grabbed the tiny elastic waistband of the sheer g-sting covering her crotch and tugged, ripping it completely off of her body. Now clad only in the red stocking and heels, Nora dipped a finger into her burning slit, pulled it out and offered it to the crowd.
Near anarchy was reigning in the club. In front of the hundred or so men present, she manipulated her dripping labial folds as she masturbated for them, giving first the guys in the center a good look, then the ones on the right, and finally the one on the left. Money showered down on the stage like confetti, as Nora bumped and ground her pussy with her hand to the pounding rhythm of the music. Faster and faster she moved, thrusting her hips and cunt out to the rabid men in the crowd.
Suddenly, a young guy from the front row crawled up onto the stage and lay at her feet looking directly into her spread slit. He unzipped his pants and began stroking his sizeable erection. The crown screamed and urged her on. Nora looked down at her feet, stepped over and straddled the young man. She did five or six deep squats over his cock, each time dipping herself firmly down onto him and taking him inside her.
Well, that was all anyone could stand. Nora was given the $1,000 prize money and promptly removed from the stage and hustled, naked, out the door with Jeff and Ricky. The crowd inside the place began tearing it apart.
Jeff and Ricky drove Nora home, pulled in front of her house and then both men crawled into the back seat with her. First Jeff fucked her, then Ricky and then Jeff again, and then both at one time. When they had finished and were unable to get their huge cocks to respond to another round, they opened the door, pushed Nora out and into her front yard, and drove away.
Naked, wearing only the tattered red stockings, Nora staggered into her house.
The bastards had also taken all of the money.