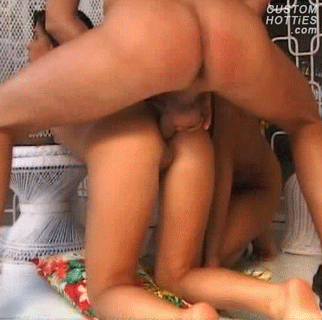 It was 1985 and I was living in Puerto Rico. My friend Kevin worked at the local bar and so did his girlfriend Raeann. Raeann's friend Linda was visiting from Michagan so I got fixed up for a blind date. Wasn't expecting anything but a fun night out with some friends. We met at a different bar where Kevin knew the owner and bartenders. So the booze flowed with ease.
Linda was 35 divorced and simply stunning. Again I was not expecting anything since she was ten years older than I. We were all dressed casual and she wore these tight cut off jeans with her legs up to her neck and a polo shirt with no bra. She was not big breasted (b cup) but what she had was great. We ended up playing pool.
The majority of customers where hard up sailors looking at the strippers, Linda and Raeann liked teasing the poor souls so they got playful with Kevin and me. Soon Linda was rubbing her ass against my crotch while I was supposedly helping her line up a shot. Her nipples poked out the fabric of her shirt. I felt every eye in the bar on us.
When we weren't running the pool table, we danced, if you could call it that. She was rubbing herself all over me sp I pulled her close to feel her body next to mine and to hide my growing erection. I wasn't wearing underwear so my erect cock was visible to all. We danced, played pool some more and drank. Mike and Raeann were smashed. So Linda drove them home and I followed in my car. While Mike and Raeann stumbled in, Linda told me she had a great time, but really wasn't tired. I suggested she could come on over to my place. It didn't take long to realize it was going to be a long night.
Once in the car, Linda's hands started rubbing my cock thru my shorts. "So what have you been hiding in here" she asked. Slowly she undid my shorts releasing my red and pulsating 7-inch cock. "Oh my" she gasped. Leaning over she bent down and then slowly swirled her tongue round the head. I watched as a bit of pre-cum strung out from my cock head on her tongue. Meanwhile I tried desperately to keep the car on the road.
Stroking me lightly with her hands she then deep throated my cock. I could feel it throb in her throat. Releasing me she then licked my balls and shaft while very lightly stroking me. "Don't come yet", she whispered in my ear. Letting go of my cock she started nibbling on my neck her hand slid under my shirt and pinched my nipples. Which made me groan in pleasure.
I tried in vain to touch her "no" she said, " you'll have plenty of time for that. You need to concentrate on the road". It was not an easy thing to do since the car was old, a stick shift and we were driving on a hilly road. Both of us being sex crazed didn't help much either. Finally we got to my condo.
We ran to the stairs up to my condo. It seemed to take forever to get the door open. I am sure the neighbors didn't like the noise at 2am either. Getting the door open we started removing each other's clothes while kissing and sucking and nibbling on each other. Both of us were giggling when Linda suggested we take güvenilir bahis a shower to get clean. We were very hot and sweaty after dancing and all the playing around with each other.
We moved on to the shower. Soaping each other up and washing off with water. Linda's pussy was trimmed but not shaved. I ran my hands all over her body. I kissed her thighs and ran my hands over her legs, stomach and breasts. Then she started on me. Biting my neck and nipples she worked her way down to my cock. Again she teased me with her lips on my head and balls. Lightly nibbling on the head with her teeth. Then she slowly eased me into her mouth. Deeper each time, soon she took all of me. I could feel my cock throb in her throat..
She had me backed against the wall of the shower stall. She started sucking and stroking me as her fingers explored my stomach. She reached up and pinched my nipples. She ran her hand along my thighs and finally my ass pulling me again deep into her mouth. Slowly her finger began to explore my anus. Pinned against the wall unable to move I groaned with pleasure. Slowly her soapy, wet finger slid deep in my ass.
It was then I lost it. I came with a force I never felt before or since. She must of have sensed it because my cock popped out of her mouth. She stroked me as a stream of cum shot over her face to the opposite side of the shower and another stream landed on her face and open mouth. Weak-kneed from the volcanic ejaculation, some how I was able to remain standing.
As I stood there she washed my cum from her face and licked the remaining cum from my still hard and throbbing cock. Breathless, I could only stand there. I felt like I was living an erotic wet dream. Finally she turned off the shower and we dried each other off.
Making the way to my bed I laid her down with her legs hanging over the side. Leaning over her I lightly ran my hands over her body. I kissed her mouth, necks, breasts, nipples, and belly button making her giggle and finally I made my way down to her pussy. Kneeling before her neatly trim bush, I placed a few teasing kisses and licks on her lips. Tired of waiting she said "damn it eat me!" and grabbed my head and pushed it down to her dripping wet pussy.
My face buried in her, I began to lick and eat her like crazy. Her first orgasm pulsated thru her as she gasped for air. Oh God! She cried. Looking up I could see her face and chest were flush from her orgasms. Her body thrashed about. I kept going. Another spasm shook her as she came again, her face contorted in what seem like pain, but I knew was pleasure. Another body spasm coursed through her. Panting she begged me to stop. I pulled away from her, my face covered in her juices, dripping from my mouth, nose and chin. Both of us were exhausted. We lay next to each other and caught our breath.
Finally we laughed. "God I needed that" she said. "Night is still young" I replied. I told her I never had an orgasm like that before and that she surprised me with the finger in my ass. I never would have said türkçe bahis yes had she asked, but now. Wow! She laughed and said she tried it with her ex-husband but he was too homophobic, in fact she said she always wanted to try anal sex. I am sure my mouth hit the floor. I said I never had thought about it. It was something that seemed wrong, dirty and unnatural… "Would'n't you like to fuck my ass?" she asked, interrupting my thoughts in mid-stream. Showing me her beautiful ass with those legs all the while looking at my cock which was hard again. "You look like your would."
I could barely answer yes. "We will need some lube," she said. The only thing I had was some olive oil. Every time I smell olive oil I think of this night. She took the oil and lubed her hands, then her ass crack and anus. I looked in awe as she knelt on all fours, her ass before me. She took her hand and slowly started fingering her asshole. "I have fingered my ass while masturbating" she said. "Hoping one day I would find a guy to fuck me there." I was amazed that this woman was going to let me fuck her ass.
She took some oil and got her fingers oiled up. Rubbing her ass cheeks as she fingered her anus. "Ummm" she purred. Soon my oiled finger joined hers. Together we slid our fingers in and out of her ass as I also fingered her very wet cunt. "I think I am ready" she said. She turned around, took the oil and with her hands greased up my cock with some stroking motions. My cock was bulging, almost purple in color and it bounced to the beat of my heart, which was pounding in my ears. She returned face down on the bed with her ass in the air.
Standing beside the bed I positioned my cock to enter her. I took my cock and placed it between her cheeks rubbing up against her crack. Oh man did it feel good and nasty. "Take it slow lover" she whispered. I tried to slow my thoughts racing in my head. When the head my cock settled on her anus, I pushed lightly then backed away. "Gently lover:" she breathed.
I rubbed her crack again and then pushed against her anus. I repeated this several more times Finally I took my cock in my hand and lined up. Placing the head of my cock against her anus I asked "ready" she nodded yes and I pushed just the head of my cock in and I held it there. Her body tensed up as she gasped for air, her asshole pushing the intruder out. I struggled resisting the urge to plunge into her. "Oh God!" she gasped and I could feel the grip of her anus muscles relax. I pulled out and did it again. "Yes" she whimpered, "again". Each time I pulled out then back in again a little deeper. She began to push back in to me. "How does it feel?" I asked. "Oh yes" she whispered, "better then I imaged".
With each slow stroke she would gasp for air cursing. "Fuck" "Shit". Panting like a woman in labor. The feeling was incredible as she finally took my cock all the way. Slowly I pulled back leaving the head in and slowly buried my cock into her. "OOOHHHH you fucking bastard" she hissed, "It feels like your ripping me apart" she said. "Are you güvenilir bahis siteleri ok", I asked. "Yes, oh yes" she said as she met my slow thrust, back and forth we fucked. My thrusts were greeted with her behind pushing back into me. UUGGGHHH! She grunted. The sounds escaping her lips were like an animal, guttural from deep within her. The sounds and the sight of my cock sliding in and out of her ass were so erotic. I didn't believe I was doing this. I never dreamed of such primal sex.
She started fingering her pussy as I built up a rhythm. I reached around and grabbed her breast and pinched her long hard nipple. She groaned in the pleasure and pain of our fucking. The sweat began to build on our skin, the light glistening off the mix of our sweat and the oil. Our groans mixed with the sound of our wet sweaty skin slapping together. "OOOHH fuck!" Slap, "Ugghh Yes!". Smack..
It would not be long now. I could feel an orgasm overtake her again. Her body shook. Her voice became whimpering cries. I came grunting and screaming. In the throws of my orgasm I popped out. My cock shot two long streams of cum over her back and ass. As I stumbled back holding my pulsating cock in my hand. I could see her anus still stretched from my cock and the ring of muscle or her anus pulsating as it slowly closed with some of my come oozing out. We were truly worn out and spent. I got some towels and cleaned her as she cleaned me. Then we curled around each other and slept in each other's arms.
In the morning, I saw her standing by the sliding glass door to the lanai. A breeze lightly blowing through moved the sheer curtain there and lightly wrapped around her still naked body. I got up and stood behind her and pressed my self against her has I held her. "How do you feel?" I asked. "Wonderful" she said. "My ass and pussy are still buzzing from last night. Thank you". Then she turned and kissed me "How are you?"
I had to admit my cock was buzzing too. My cock hurt, but a good hurt. I could feel my erection grow again. She giggled. God your insatiable! I pulled her down on the floor on top of me. She impaled her self on my cock in one motion. Now I laughed. "Your insatiable too and very wet! What were you thinking about?" "Riding your cock" she whispered in my ear.
OOhhh she said, I am sore, but I want to fuck you. We kissed as she squatted on top of me and began to fuck me. I leaned up and sucked her nipples and ran my hands over her back, butt and breasts.
I laid back and watched as she moved up and down on my cock. Her breasts dangled before my lips begged for me to suck them. She worked her self into a orgasm slamming down one last time as she came with my cock deep inside her. She collapsed on top of me. Not missing a beat I rolled her over and began to fuck her. Slamming my still erect cock into her drenched pussy. Again I came this time in her vice like pussy. Laying there her pussy and my cock throbbed together. What a way to end a fantastic night.
I saw Linda once more, for another night of great sex. unfortunately my work schedule got in the way of more encounters. She left for St Thomas the Virgin Islands. She sent me a post card. She got a job working on charter sail boat. She thanked me for a memorable night. I never heard from her again.