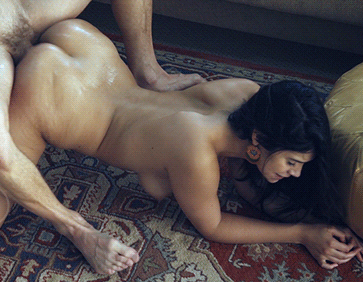 At supper that night, Scott and Cassie tried to act normal, but Scott knew their eyes lingered on each other a split-second longer than before. Every time he looked at Cassie, his mind was suddenly filled with flashes of what they had done, and then he had to look away as his cock hardened.
"How was your day?" his mother said, and he shifted in his seat as the flashbacks took over his vision again. "Good," he finally managed to answer.
"How about you, Cassie?"
"Fine. Hot." Suddenly she realized the pun she'd made, and she bit her lower lip as she smiled. "I have to work the late shift tomorrow."
"Okay. Well, I can take you to the pool, but I won't be able to pick you up. Can you get a ride home?"
"I can pick her up," Scott said immediately, then wished he hadn't. Usually his mother would have asked him and he would have rolled his eyes and acted annoyed. God, he was being way too obvious! Going to have to stop that. But he couldn't even remember what normal was anymore.
"That'd be great," Cassie said. "I get done at six."
>>@<< As he swung his car into the parking lot he saw Cassie coming out of the snack bar. She had a bathing suit on again, this time a blue one a little skimpier than her green one. He took a deep breath as he watched her approach. Then she opened the door and threw a towel over the seat and got in. "Hi, Babe," he said, trying not to leer. But damn, she was so gorgeous! "Hi," she said, looking down, smiling. He put the car in gear and pulled out. The windows were down, and the air made Cassie's hair flow out and shimmer. They rode in silence for a few minutes, and then, looking out the window, Cassie said, "Scott?" "Hm?" She turned her head toward him, then said, "I want to do it again." "So do I. Again, and again, and again." She sat back in the seat. "God, I'm so horny I want to pop! But Mom and Dad are gonna be home!" "Hm, that's no problem. We'll just make a little stop on the way." "Ooh." Now she was really smiling. "But where are we gonna go?" "Don't worry, I'll find a place." He was looking at her out the corner of his eye as he steered, feeling his cock getting warm. He reached over and ran the back of his finger over her crotch. "You're wet," he said. "That your suit or your pussy?" She leaned back further in her seat, letting her legs open a little, and said, "Both." Then she reached over and gave a squeeze to the bulge in his pants. "You're hard." "Babe, I've been hard all day." They smiled and fell silent again; then he swerved onto a small gravel road and quickly they were engulfed in trees. When he stopped the car, the only sounds were the buzz of cicadas and the rustling of the trees. "How'd you know about this place?" czech casting porno she said.
"I didn't. I just saw it." He wasn't about to tell her he'd tried to bag one of his girlfriends there–not that it mattered, because he'd never even gotten to second base before she'd popped him in the gut and demanded he take her home.
The road ended a few yards ahead of them, and he could see no signs of anyone or anything around. It looked perfect. "Okay," he said, "grab your towel and let's go."
Outside, she lay the towel in a patch of grass. He couldn't wait any more, so he grabbed her and kissed her, pulling her against him. "Mm," she said into his mouth, as they pressed their hips together, seeking what they knew they liked. This time their tongues snaked together deeper, and his hands went down and cupped her buttocks, then stroked over them. In response, she wormed her fingers under the waistband of his pants, then pulled his shirt out. When she slipped her hands inside, the feel of her warm palms on his skin made his suck his breath in. So he pulled the back of her bathing suit together, making it into a thong, and caressed her bare butt.
"Oh, yeah," she said, running her hands up his chest, over his nipples that were already standing erect. The feeling went straight to his cock, and he pulled Cassie harder, then sneaked his fingers under the crotch of her suit.
"Oh, Scott, that feels so good," she whispered, closing her eyes as he probed the tip of one finger just the slightest way into her hole. He felt her wet juices coating his fingertip, and he knew what he wanted to do. She was unzipping his pants, reaching inside to stroke his cock, and he heard himself breathing harder. If he let her, she'd make him blow his load right like this, and Christ, he wanted to, but even worse he wanted to fuck the hell out of her. But first things first. He began pulling her suit off, and just as fast she followed his lead, undoing his clothes. Their clothes ended up in a pile on the grass, and he lifted her up by the hips. Giggling, she wrapped her legs around him. Sweet Jesus, he could just slide her down on his cock like a pole–but he had something else in mind first. So he sank to his knees and lay her down on her back, kneeling between her thighs. She propped herself up on her elbows, looking at him through her half-closed eyes. He knew she wanted him to fuck her.
"C'mon," she said, arching her stomach up, exposing more of her cunt to him.
"I'm gonna," he said. "Lay back."
She did, and he knelt there looking at her pretty pussy, his mouth watering. He'd never gone down on a girl, never especially wanted to. With the other girls it was all about scoring, not pleasing them. But Cassie…not only did he want to drive her insane czech couples porno with pleasure, he wanted to enjoy her. He put his hands on her thighs and leaned closer, letting the scent of her pussy drift into his nose. It smelled faintly like shrimp, but he liked shrimp, so he inhaled and savored it. He glanced up and she was watching him, wide-eyed.
"No guy ever ate your pussy?" he said.
"No," she whispered, shaking her head.
"Hm," he said, and kissed up the inside of her thigh to the edge of her pubic hair, then gently placed his lips on her cunt. "Oh," she said, throwing her head back.
He kissed her pussy lips some more, then pushed the tip of his tongue between them to get his first real taste of her. It was a tangy, musty, clammy flavor, and momentarily he thought it must be an acquired taste, but in an instant he acquired it. So he pressed his lips a little harder, forcing her pussy lips to open a little. "Aaah," she moaned, and he lapped at her clit, then slid his tongue alongside it. She was juicy and her cunt was throbbing under his mouth. He knew he was addicted now.
"Oh, fuck," she said, letting him push his tongue into her hole. Yeah, he thought, his cock was going to be there before too long. But first he wanted to get her crazy hot. So he moved back up and mouthed her clit.
"Oh, fuck," she groaned, grabbed his head, and spread her legs as wide as she could. Now her whole clit was exposed, and he began to suck it gently. "Oh my god, oh my god," she panted, her hips rocking up and back. Now she was good and hot–so he pulled back, leaving her hanging.
"You fucker! Get the fuck back there and finish up!"
"Oh, no. You need to suck me for a while."
"You fucker!"
But when he pulled himself up straight, she stopped complaining. His cock was so hard it felt like the skin would break open, standing stiff with the head swollen like a lollipop. It just looked like it needed to be sucked, and Cassie was off her back in a second, pushing him down onto the towel. "Alright, you bastard, you're gonna get yours," she said, and leaned over him.
"You ever suck a guy's cock?"
"No. Why don't you tell me what you like."
"Okay. Well, just lick the slit first."
She lowered her mouth to him slowly, and he could tell she was nervous about the taste. But he didn't say anything, just let her discover it. She touched her tongue to the head, and he breathed in through his nose.
"Is that okay? I mean, am I doing it right?"
"Oh, yeah." The sight of his sister's tongue extended and touching his prick made him fiery hot. God damn, she was so fucking sexy, and she was his! Sweet shit, how was he so lucky?
"Now just take the head in your mouth."
She did, czech estrogenolit porno engulfing it in her lips, and her wet, textured tongue ran along the underside. "Oh, shit," he gasped. "Shit, that's good."
Cassie was getting braver, taking more of his prick into her mouth, moving up and back along the shaft. Then she took her mouth away and licked everywhere, and he watched her, feeling like he was in a trance. She looked up quickly. "Is it okay? Do you like it?"
"Fuck, yeah."
She shoved her mouth down onto him, and he groaned and pushed upward under her. "Oh, yeah, Babe, suck it. Suck my cock, bitch."
Only a moment later did he realize he'd called her bitch, and he was pissed at himself for doing it. But she didn't seem to take it personally–well, after all, she had called him a fucker and a bastard–she just kept sucking, and he kept watching her do it.
"Oh, shit, shit, shit." He knew he was going to come if he let her keep going, but he didn't want to. For one thing, he was still planning on fucking the shit out of her, and for another, he knew what his come tasted like. He'd sampled a dab of it once after jacking off, and he thought it was disgusting, like mildewy snot. No way was he going to shoot that into her mouth–especially when he could blast it into her pussy. So with all his strength of will, he pushed her away, and rolled her onto her back.
"You ready for my cock in your pussy?"
"God, yes!"
This time he couldn't be slow or gentle; he thrust his prick into her fast and smooth. "Aw, yeah!" she screeched. He looked down at her, her legs spread wide for him, her tits jiggling, her fingers playing with her nipples. He was fucking his sister, and she was so goddamn hot! He pumped harder, and she took every bit of him, her cunt tightening firmer and firmer, till it felt like she was suctioning the sperm out of him and he shoved into her hard as his cock shot like a rocket. His vision seemed to black out for a moment, and then he realized that Cassie still needed to come. He moved a few more times, rubbing her clit with his pubic hair, and her cunt burst into shaking spasms, juicing up his cock even more.
It took her a few moments to catch her breath, but finally she said, "Oh, fuck, Scott, that is so fucking good!"
"Yeah, it is," he answered, lying out beside her, feeling like a stretched rubber band. "It's goddamn good."
They lay there holding hands, and then she said slowly, "Does this make us perverts?"
"I don't know," he admitted. Then, "No, I don't think so. I mean, if we were doing it with Mom and Dad–"
"Ewww!"
"–that'd be perverted. But we're both the same age, and we both like it, so who cares? It's not like anybody's being abused or anything."
"That's for sure."
He sat up. "But we better get home before it gets too late."
>>@<< When they walked into the house, their mother was just dishing out supper. "Well, finally you're home!" she said. "We were starting to get worried!" "No big deal," Scott said. "We just stopped for a treat on the way."